posted in
Cat Pictures
,
Cat Stories
|
It's now a week since Leonard passed away and we're still trying to come to terms with losing him. Here I take a look back on Leonard's life.
He first came to our attention in 2012 when we were living at 'Ravendale House'. He was a fully grown, stray tom cat who was very timid and wary of us in the beginning.
Patience and an endless supply of 'Dreamies' cat treats finally paid off and by October of that year he was spending quite a lot of time in the kitchen,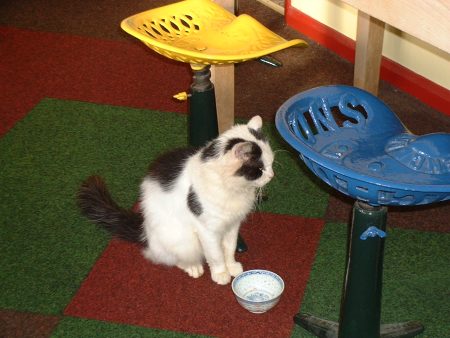 but he was sleeping in the boiler house, with access to outside as he was un-neutered and obviously needed to wander off from time to time.
It didn't take him long to move on to the old settle in the hall where he would spend many happy hours.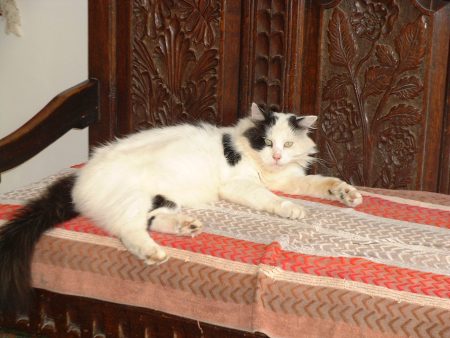 We brought him with us when we moved to 'Grassy Bottom', where he had no trouble finding somewhere new to relax.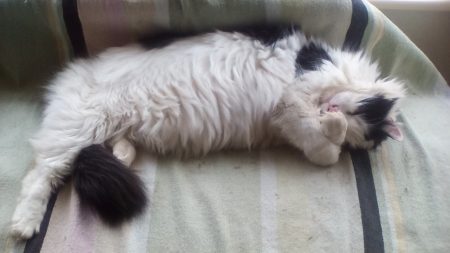 15 square meals a day and a trip to the vet for 'the snip' had helped him grow into a handsome cat.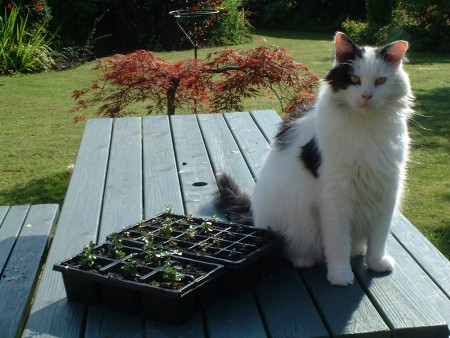 When he wasn't sleeping or eating he loved joining in with whatever we were doing and this year he has had plenty to choose from. But he was always careful not to get too close to the hard work, preferring instead to act in an advisory capacity.
Anything from digging,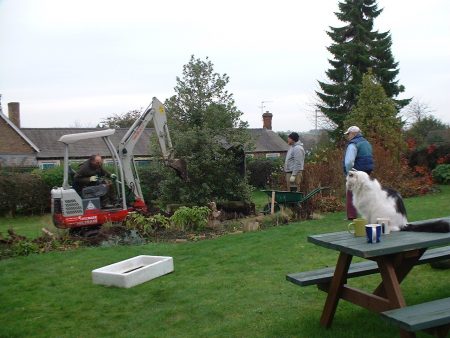 to drain pipes,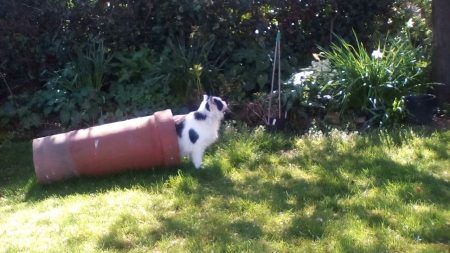 he even helped us choose the bricks for the new garage/shed.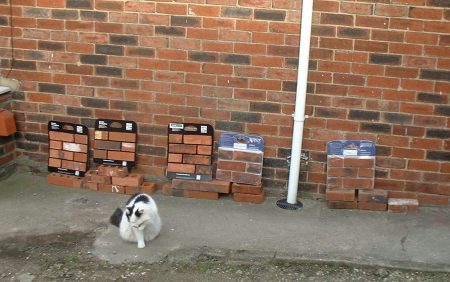 Leonard was very happy at 'Grassy Bottom'.
When the end finally came he deteriorated quickly, the vet said he had chronic kidney failure. Realistically we had no choice.
He rested his head in my hands, he was purring, I felt him slip away, it was heartbreaking. We brought him home and laid him to rest in the garden.
For Leonard the fat lady has sung, but for Peter and I the pain continues as we try to get used to life without him. The house feels so quiet and empty, which is ridiculous as he hardly ever made a noise. Speaking for myself I feel like I've had my shadow removed.
I know some people will be wondering how 2 otherwise sensible, rational people can get so upset at losing a cat. Well, I can't explain it other than to say this.
On learning of Leonard's passing our young Canadian friend kindly sent a donation to a UK cat rescue charity in his memory. She included a short verse the nub of which is,
'Grief is just love with nowhere to go.'
We loved Leonard very much.